New at the Honeypot
We are always striving to keep our guests guessing as to what we are gonna do next. Check out this page or click on the "What's New" link on any page to stay updated on what we have in-store for you! Don't forget to check out Alex's blog, our Newsletter Archives and Special Events.
Back Open After Covid Closure
Posted by on May 19, 2020
As of May 14, 2020, we are allowed to re-open our doors at 50% capacity and we couldn't be happier!

We've so missed seeing all your faces and can't wait to serve you once again! We are following all the guidelines put forth by the Alberta Government and Alberta Health to make sure your safety and the safety of our staff is priority number one.

We have dine-in service with a maximum of 6 people per table. Our tables have been reconfigured to be physically distanced at 6 feet apart and we are taking reservations for the pub, patio & restaurant!

We also offer Take-out & Curbside pickup! You can give us a call to order or use our Honeypot Eatery & Pub App or order right here from our website! Just search for "Honeypot Eatery & Pub", download the app for free and make your account. You can order and pay right there making pick up a breeze :)

Please note that we do have temporary shortened hours and menu. We will be open Tuesdays to Saturdays from 12pm-2pm & 430pm-8pm. Please check out our Menu page to see the temporary menu choices.

We are hoping that it won't take too long to get things back to normal but for now we are just so happy to be able to serve our community again!

Thank you so much to all our loyal guests :)

Temporarily Closed
Posted by on Mar 27, 2020
To our valued guests,
.
We have made the unimaginable decision to shut our doors and stay fully closed until it is safe to open them again.
.
Our staff and guests safety and well-being is more important than any sales we may make. And with the announcements made today of bars and other establishments being closed down, we feel it won't be long until we are shut down as well. By choosing to do this sooner than later we hope this can make an impact in stopping the spread of the virus as soon as possible and make it easier to help our staff find the support and resources they need to weather these difficult times.
.
Our plan is for all of us to spend this time with our families and loved ones, trying to make the most of this while staying on top of the ever changing situation. We are doing this to ensure that we can be open and fully staffed and ready to serve our community as soon as it is possible to do so.
.
We can't thank our staff enough for their amazing camaraderie and resiliency. We all met today as a family to go over everything and the positivity was overwhelming to say the least.
.
To our guests, we plan to weather this storm with you and can't wait to see you on the other side! Your support, reviews and concern for us is so appreciated. Thank you for being there for us now, we won't forget it.
.
Here's to everyone staying safe and helping to slow this all down so that life can return to normal.
.
All our Love,

Michela & Alex
New Menu Changes
Posted by on Apr 7, 2019
Starting April 8, 2019 we've made some big changes to our menu! Half of the menu has been changed for new and exciting items!

Take a look and see if your old fave is safe from the cuts or if you'll find a new one that surpasses your expectations :)

We couldn't be more excited to share these new items with you and we look forward to hearing your thoughts about them!
There's An App for That
Posted by on Oct 22, 2018
Want to order and pay for your HP Takeout from anywhere? Download our app!

iPhone/iPad:

https://itunes.apple.com/ca/app/honeypot-eatery-pub/id1437311267?mt=8

Android:

https://play.google.com/store/apps/details?id=com.chownow.honeypoteaterypub

Or use the "Start Order" link on our Facebook, Instagram or right on the homepage of this website :)
Granville Island Cruiser Giveaway!
Posted by on Oct 11, 2016
If you've been in to dine with us the last couple months, you would have seen the sweet old school cruiser bicycle we had in our lobby for a giveaway! Well, we got Beeker from RGB Motorcycles across the street to draw a name for us from all our many many entries today and Andrea Moroz won the bike!! Her Dad Patrick came and picked it up for her :) Congrats Andrea! We hope you enjoy your cruisin!
Now on our Rotating Tap!
Posted by on Sep 13, 2016
Currently we have Vancouver's Granville Island Brewery's Two Tides India Session Ale on our Rotating Tap. From High Tide to Low Tide, and everything in between. "Our ISA is a lighter way to an IPA.". Granville Island has created a flavourful yet quaffable beer in the Two Tides ISA.

Two Tides provides a floral and fruity hop aroma with a lighter, sessional body, lower alcohol, and lacking in the high bitterness characteristic of the IPA style.

Enter for your chance to win a Granville Island Vintage Cruiser Bicycle! While supplies last!
Christmas Hours 2015
Posted by on Dec 21, 2015
Please note that we will be open on December 24th in the pub for gift card sales only from 10-2pm. We will then be closed from December 25th until January 3rd and resume regular hours on January 4th. We are sorry for any inconvenience this may cause. Our staff would like to wish you all a very Merry Christmas and a Happy New Year!
Father's Day Menu June 13 & 14
Posted by on Jun 13, 2014
It's time to treat Dad! Join us Friday and Saturday after 5pm for our feature Father's Day Menu!

Prime Rib Dinner served with Yorkshire Pudding, mashed potato, gravy, and fresh seasoned vegetables.

For a special treat, end your meal with a deep fried Snickers bar served with ice cream or a mini Banana Cream Pie.
Patio is Open!
Posted by on May 23, 2014
The patio tables and chairs are officially ready to go!!

We are still under some construction and beautification but we are ready to serve you in the great outdoors!

Come join us and the the progress we make throughout the next few weeks to continue to make ours the best patio around :)
Cinco de Mayo Menu - May 5 & 6, 2014
Posted by on May 5, 2014
Appetizer:

Corn Chips & Handmade Picco de Gallo 9.00

Entrees:

Fajita
sauteed ripe tomatoes, crisp green peppers, mushrooms and sweet red onions flavoured with Cajun spice and wrapped in a warm flour tortilla then baked with cheese. Served with salsa, sour cream, refried beans & Mexican fried rice. 14.00

Honey Lime Tequila Shrimp Tacos
shrimp marinated in a sweet tequila sauce, grilled and stuffed into two crispy corn tortillas with crunchy slaw and a chipotle crema sauce. Served with refried beans and Mexican fried rice. 16.00

Fish Tacos
crispy battered haddock nestled into two soft flour tortillas with crunchy lettuce and fresh pico de gallo then finished with a creamy lime dressing. Served with refried beans and Mexican fried rice. 14.00

Dessert:

Churros con Chocolate
sometimes referred to as the "spanish doughnut" these fried treats are sure to please. Lightly tossed in sugar and served with chocolate sauce for dipping. 7.00

Beverages:

Shaken Margarita 9.00
Tequila Mojito 7.00
Mezcal 5.49

Easter Hours
Posted by on Apr 18, 2014
Good Friday - OPEN
Holy Saturday - OPEN
Easter Sunday - CLOSED
Easter Monday - CLOSED
Fowl Mouth Beer is here!
Posted by on Feb 21, 2014
Now serving Big Rock's latest limited edition beer:

Fowl Mouth- Extra Special Brew

This is a limited time addition to the HP draft line up so come get it while you can!

This beer has a golden copper appearance and a spicy flavor with notes of blackcurrant and citrus.
Amnesty Week
Posted by on Jan 29, 2014
This is your chance to use any expired coupons, vouchers or certificates issued by the Honeypot. The original rules of the coupon still apply.
Amnesty Week will be from February 24 to March 1, 2014.
Valentines Day Menu
Posted by on Feb 14, 2014
Entrees:

Wild Pacific Halibut Neptune
A grilled 8oz Pacific Halibut steak topped with
creamy lobster and shrimp Neptune sauce 38

Alberta Prime Rib
10oz of Tender Prime Rib Certified Angus Beef® served with Yorkshire pudding and finished with rich beef gravy 30

Farm Raised Chicken Breast
A succulent farm raised chicken breast stuffed with bacon, herb and garlic cream cheese and finished with a mild cheddar sauce 21

Desserts:

Angel food cake trifle
layers of freshly cut strawberries, hand whipped cream and vanilla pudding 7

Peanut Butter and Nutella Mouse
layered with salted caramel sauce, graham crumbs,rich chocolate ganache and finished with a Ferrero Rocher 7







Robbie Burns at The Pot
Posted by on Jan 22, 2014
Robbie Burns night is celebrated around the globe and is better known than St. Andrews Day. The whole ceremony starts with Grace and then the haggis is "Piped" in and cut open. Following that is the "Address to the haggis" which goes on for quite a while ending with Toasts to the Lassies and heavy drinking of scotch. We figure that haggis probably would not sit well with most guests so we will be serving an "Alberta Version" of the feast on January 24th and 25th.

"Scotch Eggs"
Hard-boiled eggs, wrapped in pork sausage meat, breaded and baked. 14

"Scotch meat peh an' mashed tatties"
Tasty ground beef cooked in a thick beef gravy with herbs, spices and veggies all wrapped in pastry. Served with creamy mashed potatoes. 15

"Haddock an' Cheps"
Beer battered Haddock with big fat chips. 15
No Peeking
Posted by on Jan 8, 2014
Did you pay us a visit in December? If so, you likely received a No Peeking envelope. Grab your envelope and come back down so you can start peeking! The deadline to bring in your No Peeking envelopes is February 12th so don't miss out on your chance to win! Prizes range from extra VIP rewards points, to discounts off your bill and even dinner certificates valued at up to $250. Don't forget your envelope must be open in front of your server. Good luck and thanks for dining with us.
2013 Christmas Hours
Posted by on Dec 17, 2013
Closed December 23, 2013.

Open from 10:00am until 2:00pm for Gift Certificate sales ONLY.

Closed from December 25, 2013 to January 1, 2014.

Open for regular hours January 2, 2014.

We apologize for any inconvenience this may cause and wish you all a safe and happy Christmas! We look forward to serving you in the New Year :)
2013 Christmas Menu Now Available
Posted by on Nov 15, 2013
Christmas Lunch - Served from 11am to 5pm

Turkey Pot Pie
Thick and creamy handmade turkey-stew featuring oven-roasted turkey, carrots, celery, onion, potato and green peas enveloped in a flaky pie crust. 14

Chicken & Apple Sausages
Two plump chicken and apple sausages served with buttery mashed potatoes and a side of savoury chicken gravy. 15

Cranberry Turkey Salad
Slow roasted Alberta turkey nestled on top of crisp green with salty pumpkin seeds and sweet cranberries. Served with a creamy orange dressing. 14


Christmas Dinner - Served from 5pm - 9:30pm

Appetizers:

Stuffed Yorkshire Puddings
Two light Yorkshire puddings stuffed with slow roasted Alberta beef, finished with rich beef gravy and horseradish cream. 10

Devils on Horseback
Six large scallops wrapped in smoky bacon and baked until golden. Drizzled with a sweet and salty maple glaze. 15

Portneuf Cheese Plate
An assortment of six cheese samples from "La Belle Province." Served with crackers, grapes and handmade orange marmalade. 17

Entrees:

Bacon Wrapped Pork Tenderloin
Succulent Alberta pork tenderloin wrapped in smoky bacon and baked until golden brown then sliced and complimented with a brown sugar applesauce. 20

Roast Half Chicken Dinner
Half a plump chicken roasted to golden perfection and served with all the traditional trimmings. Handmade stuffing, creamy mashed potatoes and garden vegetables. Finished off with rich chicken gravy. 20

Classic Beef Wellington
6oz of Alberta Certified Angus Beef tenderloin with diced mushrooms, onion and a red wine reduction wrapped in flaky puff pastry and served with classic beef gravy and horseradish cream. 25

Surf & Turf
8oz of Alberta Certified Angus Beef New York striploin steak served with a tender 6oz Atlantic lobster tail. Presented with garlic butter. 40

Classic Salmon Wellington
Wild caught Sockeye Salmon with a whipped cream cheese and dill filling wrapped in flaky puff pastry and finished with hollandaise sauce. 25

Dessert (served all day):

Eggnog Pie
A classically spiced eggnog pudding presented in a miniature pie crust and finished with a generous spoonful of fresh whipped cream. 7

Gingerbread Cheesecake
Handmade spiced cheesecake on top of a gingerbread cookie crust adorned with a little ginger bread man! Finished with a spoonful of whipped cream. 6
Now Serving Big Rock Brewery Life of Chai!
Posted by on Oct 1, 2013
The newest jewel adorning the body of Big Rock's ever-growing collection is a complex yet whimsical blend of nine heavenly spices atop a quartet of superlative malts and a perfectly-balanced mix of Galena and Willimette hops. Big Rock wanted each spice to have its say: the smoky, cool cardamom, the sultry yet approachable rose petals, the plucky poke of ginger – nine spices in all. But while each individual flavor-note may wave its own unique flag, the tapestry they form together is a formidable weave of bravery and wisdom, a mouthful of moksha – salvation via unparalleled flavor. Carbonation is low, the mouthfeel is a perfect medium, and the flavor is delightfully high. Life of Chai is the ideal blend of sensory stimulation and polished refreshment. The perfect party in every sip

This delicious brew is only available from Big Rock until December 2013, and it's available right here at your HP! Come in and try it while it lasts :)
Tour of the Dead - Redemption Road Rally 2013
Posted by on Aug 9, 2013
If you've been putting off taking part in our Rally and have always thought "Ah...I'll do it next year" well this may be your last chance to do it!

This years route takes you through 270kms of the most scenic parts of Eastern Alberta. Across flat prairie, down into lush river valleys, cornering between huge hills and through some of the quaintest towns in the region!

Entrance fee is $50 which gets you entered into the rally, a sweet Road Rally T-shirt and an amazing Alberta-style BBQ dinner! All proceeds of the Rally will go towards Prostate Cancer :)

Registration starts at the HP at 9:00am (breakfast will be available) with the Rally starting at 10:00am - You will be given an sheet that will have you touring around with cryptic clues, amusing questions and odd requests.

Dinner will start for 5:00pm with the giveaway of prizes right after! There will be lots of door prizes as well as the main prizes for the Rally! Lots of goodies for all! :)

Please note: if you would just like to join us for dinner it will be $25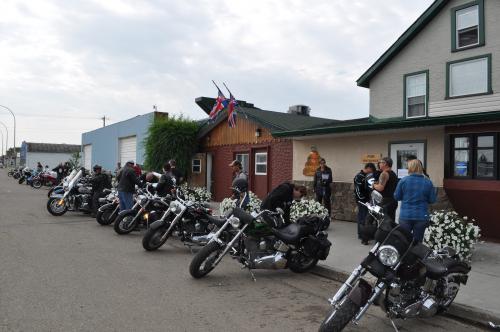 Filipino March Menu!
Posted by on Mar 7, 2013
Our Filipino chefs have created authentic and delicious menu items for you :) Come in and enjoy these items after 5pm for the whole month of March!

Tuna Kinilaw "Kenny Law"
Raw Tuna pickled with white vinegar and lemon juice, then served with slivered ginger root and diced red onion, garnished with a slice of fresh chili pepper. 14

Beef Merchado "Mer Cha Doe"
This Filipino beef stew has tender chunks of fresh beefsteak that are slow cooked with cubes of potato and caramelized onion in a tasty tomato sauce. Presented with your choice of rice or steamed noodles. 18

Pancit Canton "Pan Sit Can Ton"
A blend of stir-fried Bok Choy and other fresh vegetables with Canton noodles in a savoury chicken and soy sauce. Finished with whole tiger prawns and slices of pork. 18

Pininyahang Manok "Pea Nin Ye Hang Manok"
Pineapple marinated fresh chicken thighs, lightly browned and simmered, served in a creamy coconut sauce with sweet peppers and fresh tomatoes. Presented with rice or noodles. 18

Adobo "Ah Doe Bow"
This dish comes with your choice of fresh, boneless, skinless chicken breast or Certified Angus Beef Flat Iron Steak. Sauteed with onions, ginger, a splash of vinegar and a touch of soy sauce. Finished with green chilies, black pepper, sugar and bay leaf. Presented with rice or steamed noodles. 18

Leche Flan "Letchee"
A rich creamy custard with a sweet caramel topping - silimar to Creme Caramel. 6

Come try these exotic and delicious dishes - you won't regret it! And please note, that they are very compatible with Gluten or Lactose Allergies, just ask your server :)
Christmas Hours
Posted by on Dec 7, 2012
We will be closed from December 23, 2012 to January 2, 2013!

We will be open from 10am - 2pm on December 24 for Gift Card Sales only!

We apologize for any inconvenience this may cause be we like to give our staff a well deserved break so we can start the new year fresh and ready to go :)
HP Christmas 2012
Posted by on Nov 23, 2012
We now have our 2012 Christmas Menu running every evening after 5pm until December 22, 2012!!

Appetizers:

Calamari
Welsh Baby Quiche
Devils on Horseback

Entrees:

Cranberry Brie Stuffed Chicken Breast
Pork Tenderloin
Prime Rib
Steak & Lobster

Desserts:

Peppermint Baileys Cheesecake
Pumpkin Bread Pudding
Portneuf Cheese Plate

Make sure you come an try these items before they are gone!!


July is Burger Month
Posted by on Jul 5, 2012
Come in for the whole month of July to try our "Burger Month" menu items - These hand-crafted burgers will satisfy your need for for great summer food!
Ribstone Creek Lager - Top Seller
Posted by on Jul 5, 2012
If you haven't come in to try Ribsone Creek Lager on Tap, then you're one of the few! :) Ribstone is now our Number One selling Draft Beer!
Ribstone Creek Lager - Coming Soon!
Posted by on May 17, 2012
We are excited to announce the coming arrival of Ribstone Creek Lager brewed by Ribstone Creek Brewery located in Edgerton, AB - just east of Wainwright!

We are very excited to have this local brew on tap - visit www.ribstonecreekbrewery.ca to learn more :)

But, we need to make room for this award winning new beer, so, for a limited time, we will be offering Big Rock Pitbull Lager at $4.44 a pint while supplies last!

Help us, make room for Ribstone Creek :)
St. George's Day Menu
Posted by on Apr 23, 2012
To celebrate St. George's Day (the Patron Saint of England) we are offering a special menu all day for April 23, 24, & 25! Look for delicious handmade items from the Old Country like:

Steak & Mushroom Pie
Scotch Eggs
Mini Yorkshire Pudding
Fish & Chips
Bangers & Mash

We are also offering great specials on Strongbow, Traditional Ale & Pitbull!
New Menu Items
Posted by on Apr 6, 2012
We have added some very new and exciting menu items! Yes, we did have to remove some items, but we promise that ALOT of thought was put into what we added and what we removed and we know that you are gonna love the new changes :)

Look for more seafood options, new Pulled Pork options - made with our secret recipe, and some AMAZING new appetizers!

We are also featuring Guiness on tap! Did you know that it has less calories than a glass of wine and it's chock-full of heart healthy nutrients?
Gutbuster Extreme!
Posted by on Jul 7, 2011
If you're into stuffing yourself with copious amounts of food, have we got a challenge for you!! Starting tonight at 5PM, you can join the Gutbuster Extreme Challenge and have a chance at winning a sweet T-Shirt and your pic on the Wall of Fame! All you have to do is eat 3 6oz Hamburger Patties, a Nathan's Famous Hotdog, a Westmorland Sausage, 2 Fried Eggs, Sauteed Onions & Mushrooms, 1/4lb of bacon, Onion Rings, a Grilled Cheese Sandwich stuffed with BBQ Chicken Fingers, 1/4lb of Roast Beef, 1/4lb of Canadian Cheddar & Swiss Cheese, House Sauce, Lettuce, Tomato & Pickle, all stacked between a fresh Hamburger Bun! Don't forget the double order of fries and gravy! Think you got what it takes??
VIP Rewards
Posted by on Jan 13, 2011
They're yours…to claim. Switch off your spam filter!

Make sure that when you join out VIP Program and our emails first come to you that you check off that ALL emails from this address are safe and not junk. We will never spam you or send you junkmail. We only send you offers or a statement that lets you know how many points you have in your VIP Account.

Don't lose out on your "just desserts" TURN OFF THE FILTER